Angeles City Cebu Boracay Manila Subic Bay Forum | Men's Travel Information
Philippines Addicts is part of the massive Addicts Friendly Family of Websites. Inside you will find FREE detailed real time Philippines nightlife Information, Bar and Go Go Reviews, Do's and Don'ts, Detailed Maps, Newbie Guides, Philippines Trip reports, Travel Tips, Exclusive Philippines Pictures, News and Videos about the Philippine Islands. Philippines Addicts is gentleman travelers seeking the nightlife and entertainment pleasures of Angeles City, Boracay, Cebu, Manila and Subic Bay all covered extensively. All other regions of the Philippines are also covered in detail as well.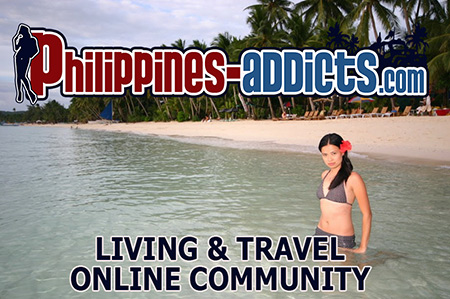 Be sure to add Philippines Addicts as friends on all the popular social and connect with us on Face Book, Imgur, Pinterest, Reddit or Twitter. Be sure to connect with us on this popular networks.
Looking for information about traveling and/or living in the Philippines? Philippines Addicts forum offers the latest news, links, reviews, real time advice, Philippines hotel information, bar experiences, gogo bar and nightlife information. First hand extensive reality based trip reports from throughout the Philippines are added to the Philipines Forum on a daily basis. Plus an extensive and exclusive library of Philippines pictures and video all 100% free for your viewing pleasure.
Friendly Philippines Men's Travel Information for gentleman across the globe
Launched in September 2009, Philippines Addicts already has over 58,000 members and an average of 1,300,000 to 1,500,000 page views a month with over 900,000 posts on all aspects of the Philippines. There is a great mixture of threads and posts, competitions and reports from both experienced Philippines veterans and frequent Philippines visitors making it an ideal source of information for both the experienced and first time visitors or Newbies to the Philippines.
Follow us on all the Social Networks!



Complete Message Chat Board and Forum on the Philippines
Philippines Addicts has extensive coverage of all things Philippine including Angeles City, Boracay, Cebu, Davao, Manila, Puerto Galara, Subic Bay and every other popular Philippines travel destination throughout the country.Related knowledgable first hand Philippines information including exclusive Philippines bar and trip reports, current Philippines hotel information and much more categorized into several sub forums making navigation both easy and user friendly.
Most Philippines Addicts threads include in depth questions and answers containing photos, videos, current prices for all clubbing and travel related items, philippines nightlife, restaurants and travel activities, tips on shopping, traveling to other Philippine Island destinations plus loads of other useful Philippines Nightlife and travel information.
The best thing about Philippines Addicts is the fact it's 100% free, takes literally seconds to join and enables you to meet up with other like minded individuals for all your needs in the Philippines from the foreign community. Whether your Philippines visit is it be for business, pleasure, retirement or traveling, Philippines Addicts has every topic covered for both the experienced and newbie visitors. Philippines Addicts is a very friendly collective message board community of gentleman from all over the World with a strict no flaming policy which is enforced with both diplomacy and integrity by our multinational administration and moderating team.
Our growing membership also includes thousands of Philippines expats from all over the World giving you friendly and experienced answers on any question you may if you are considering a move to the beautiful Philippines Islands.
Philippines Nightlife and Travel
Message Board
Philippines Addicts also covers all other popular areas of the Philippines such as Borocay, Cebu, Manila, Subic Bay and all other notable destinations throughout the Philippine Islands packed valuable content from experienced travelers.
Join the Philippines Addicts Forum now - its 100% FREE and 100% Friendly with Zero Flaming
Please visit our other established Nighlife Forums in Asia: