Philippines online marketing | Advertise your Philippines application or website now!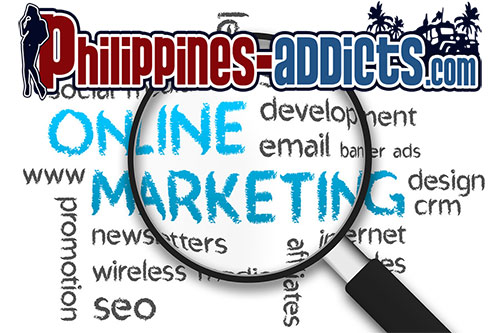 If you are looking for an excellent Philippines online marketing solution other than social media sites then you have found the place. Philippines Addicts offers your application, product or website many ways to advertise your presense through both banner and text links. We employ contextual advertising whereby an advertiser gets free links if their business is spoken of as well as new advertisers have the abilities to buy particular phrases such as Philippines diving or diving in Subic Bay. When these keywords or phrases are used during a conversation on a thread in the forum then they automatically link to a website of your choice.
This type of contextual advertising is the best you can get! It's highly effective for both desktop and mobile devices which is paramount in today's online advertising World. The end user has easy access to your website or application simply by clicking on a link automatically generated by our software each time a particular word or phrase is typed mispellings included. This type of advertising is unheard of anywhere else as we have programmed into our software ourselves.
Mobile Philippnies Traffic and Advertising
Currently all websites around the World received 55% mobile traffic so having your site both mobile friendly along with your advertising is very important. Most advertisters would not tell you this important fact as they do not offer mobile advertising but Philippines Addicts is up front about the importance of mobile traffic when advertising online.

The highest volume of daily traffic for Philippines living nightlife and travel on the Internet today!
Turnkey Philippines Online Marketing | Be Part Of Our Large Network
Philippines online markerting has never been so easy as it is today. Philippines Addicts offers it's advertisers 6 solid years of online Philippines traffic experience giving it's partners a wealth of knowledge and expertise in both advertising and marketing your Philippines product or service. Branding your products online is Philippines Addicts speciality and never been easier.
Premium Philippines Advertising Placement High Volume Reach
Philippines Addicts provides 4 different high volume traffic placement options specifically targeting the search engines and most importantly the visitors our website. These placements are also in known high volume areas of the page that convert well for click throughs which at the end of the day is an advertisers wish. All we need from you to get started is a completed website and your logo. Our Philippines online marketing team will do the rest and make your animated banner and size it for our needs along with giving your some tips on how best to use our forum effectively. From both an end user standpoint and advertiser standpoint. This gives you a complete picture of exactly how your ad dollars are at work and exactly how conversions can be made.
We require all businesses on Philippines Addicts to be 100% vetted at all times and we reserve the right to refuse or remove your advertising at any time if it engages in illegal activities. We do not allow illegal websites to advertise on Philippines Addicts at any time, adult website are OK but we only suggest chat sites or dating sites.
If you require information about Philippines online advertising on the Philippines Addicts Forum or the Pattaya and Bangkok Addicts Forums, please send an email to and we can discuss many cross promotional needs you might have for both the Philippines and Thailand. The Addicts family of sites extends to both Bangkok and Pattaya.
Read our guide and useful tips for maximizing
your Philippines advertising exposure now
Contact Philippines Addicts today and start your Philippines online marketing campaign properly today!