Subic Bay Nightlife Forum | Bars Entertainment Girls Subic
Newbie to Subic Bay Philippines? An Old Hand or Resident Subic Expert?
Message Board Subic Bay | Filipina bargirls in Subic Barrio Barretto
Philippines Addicts is the ultimate up to date Subic Bay Nightlife Forum and message board giving you an excellent source of up to date information about Barrio Barretto bars, Subic bargirls, detailed Subic trip reports, inside useful money information, travel tips and current prices for just about everything. Full Subic sub forums and message board sections include Top Subic Bay Hotels, Restaurants, Go Go Bars, Nightclubs and detailed real time Philippines mongering information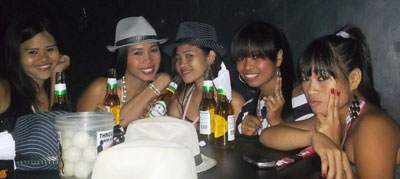 Photo courtesy Mo's Subic
Subic Bay Barrio Barretto Nightlife Bars and Filipina bargirls information
Subic Bay and Olongapo have a legendary Subic bay nightlife scene going back over a half a century when it was a US Naval installation. Read all about the current nightlife establishments in Subic Bay Barrio Barretto, Subic Bay Freeport and the surounding areas of Zambalas Province in the Philippines. Daily Subic postings include locals news, new clubs opening, special bar events and other parties happening around town.
Forum Subic Bay Entertainment Nightlife and Filipina Girls
Our Subic Bay Nightlife forum has a multitude of friendly and fun real time information about the nightlife in Subic Bay including Barrio Barretto, National Highway Bars, Baloy Beach and many of the surrounding areas including exclusive night life photos from inside the bars, streets shots and popular Subic Bay tourist locations. Exclusive videos are added constantly to our growing YouTube Channel and Philippines Photos and Videos Gallery Section

Subic Bay Philippines Forum and Message Board



Philippines Addicts extensively covers Subic nightlife including great trip reports about Subic Bay bar hopping and fun with Filipinas with real time posts from guys on the ground. Be sure to join Philippines Addicts today and join in on all the acion to see all the photos from Subic bay constantly added to on a daily basis. PIA is your complete nightlife in Subic Bay Forum and Message Board.

Join Philippines Addicts today, 100% Friendly Philippines Forum Community

Be sure to join our sister site Pattaya Addicts for all information on Pattaya and Thailand.

Tags: subic bay forum message board subic monger subic bay subic bay philippines forum subic bay subic bargirls nightlife philippines nightlife subic bay bars subic bay ktv girls subic bay subic bay bars bars subic bay forum subic bay nightlife subic bay nightlife nightlife subic bay girls subic bay subic bay mongering photos subic bay subic bay bargirls barrio barretto nightlife